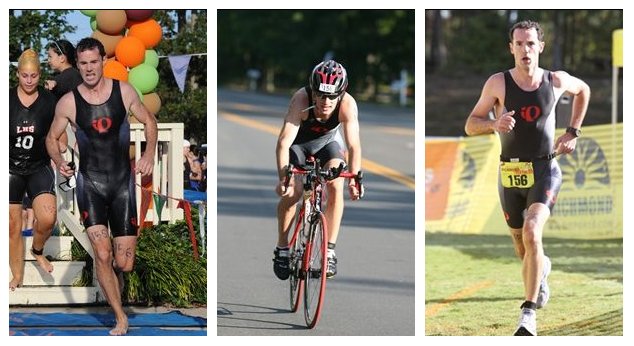 "It's 5:00am, and I am standing on the deck of an outdoor swimming pool in California. The temperature outside is 37 degrees and I am unabashedly rocking a Speedo. My last thoughts before jumping into the pool are, "Who am I and how did this happen?"
A year ago for my birthday in November, my wife got me a few personal training sessions with Hyam. I had not exercised consistently since playing soccer in high school and would describe my level of activity as "sedentary". After almost passing out and throwing up in our first session, I made a commitment to myself and to Hyam to get into shape. We defined success (I would like to be fit and cut like Bruce Lee) and she then built me a personalized training plan to help me achieve my goals. She took into account my travel schedule (I live in Virginia but work in California) and worked through my concerns (I can't swim and I hate running.)
Six months after our first session, I ran the Charlottesville Ten Miler… and enjoyed it! During the summer, Wes and Nicole started swimming lessons, and I decided to work on my SLS (sinking legs syndrome) in the hopes that I could one day do a triathlon. By the one year anniversary of my first meeting with Hyam, I had completed three triathlons and six running races, and I had achieved a level of fitness that would make my high school self (and perhaps Bruce Lee) a little jealous. I am truly grateful to Hyam for helping me to exceed my goals and then challenging me to set new ones."
Lee Susen

"In 2010, I tore my left hip flexor and hamstring, high up, near the insertion point. I did it doing yoga. At that time I was doing probably seven hours of yoga a week and not much else, other than walking during my commute. I was doing a pose I did (and still do) all the time–nothing unusual or radical–and I heard a loud, "Snap! Snap!" After being diagnosed and taking it easy for a few weeks, the injury slowly started to heal. By the end of 2010, the injury was, I would estimate, 80% better. I could do yoga well, but had both pain while doing yoga (and biking and hiking) and also a loss of flexibility on my left side. I assumed that 80% was as good as it got, and my doctor said the same. I planned to live with the aftermath of this injury the rest of my life.
Part of my motivation to branch out and start doing things other than just all yoga all the time was to prevent or minimize further injury. It dawned on me that I was not getting enough cardio and also was probably overstreching, which I believe led to the injury. I came to Clay in the summer of 2012, never having done any thing like Iron Cardio. I eased into this sort of working out through Callie's class, and then started coming to Iron Cardio two times a week, then added one weekly session of boxing. At different points in the late summer and last fall, I noticed that my hamstring and hip flexor felt better. This winter I realized that it was pretty much entirely better! There was no more pain while exercising: not during Iron Cardio, nor yoga, nor biking. And my flexibility on my left side has increased greatly; it's almost back to my 2010 level of flexibility.
I am so pleasantly surprised and pleased by this! I think that Iron Cardio helped me build up the musculature around the damaged hip flexor and hamstring, and this in turn has allowed the injury to better heal. I have met my original goals with Iron Cardio–to prevent injury by cross training and to boost cardio ability–and, wow, healing an old injury is a great bonus."
Carrie Frost, Charlottesville

"I first heard about Hyam and Clay Fitness from my wife, who had been attending the group training classes. She suggested that I consider personal training, and after my initial consultation with Hyam I recognized that these workouts would be very different from other personal training that I had experienced in the past. Her approach is not exclusively focused on "bulking up" and attempting to lift ever-increasing amounts of weight. Instead she targets the whole body, with each exercise incorporating a variety of muscle groups and designed to improve not just your strength, but also your speed, agility, and balance.
The array of equipment at Clay allows for a different workout each time. Hyam also inspired me to get back to running, which I hadn't done regularly since I was a member of the track team in high school. After training throughout the fall and winter, I completed the Charlottesville Ten Miler in the spring. Hyam has helped me recognize the importance of cross-training, and I have begun to attend cycling classes at Clay as well.
Hyam inspires you to push yourself and to improve not only your fitness, but your overall health. Our family is now eating better and finding ways to be more active. It is easy to let life become so busy that fitness falls by the wayside, but training with Hyam has helped me focus on making my health a priority."
David Coon, Charlottesville

"At the risk of sounding dramatic I have to say that finding Clay Fitness has changed my life. Really.
When I started working out at Clay nine months ago I couldn't do a push-up or a sit-up or run around the block without feeling like I wanted to die. Seriously. I was that out of shape.
Today I ride 15-20 miles on a bike and follow that up by 30 more minutes of uncountable repetitions of push-ups, sit-ups, dips, lunges, squats, flys, presses, kick-backs, and a ton of other things I don't have names for. Two days later i come back for more. On Fridays I'm not even scheduled to go to class but sometimes I show up just for fun. Yes, I said, fun. And did I mention that I run 3 miles on Tuesday, Thursday and Saturday now, too? FUN.
Who knew I had so much energy inside of me? Who knew I could feel so good? Hyam did. She believed in me – pushed me when I needed to be pushed, held back when I wasn't quite ready, and helped me find the me hiding under that unhealthiness. She always says that I'm doing the work and she's just whispering in my ear. While I think she does way more than that, I'm very thankful for her whisper.
When I started at Clay Fitness I couldn't do a push-up. Now I'm an athlete. It's changed my life."
Amy Eastlack, Charlottesville
"It has been a year since I walked into Clay Fitness. I was 50 lbs heavier, completely out of shape, depressed, and at an all time low. How's that for a walking train wreck? I had an immediate connection with Hyam. She was sympathetic and non-judgmental and at the same time she had such confidence that I never doubted her. I truly felt that she was a life changer for me, maybe even a lifesaver. I knew that Hyam completely understood me and where I was in my life.
I turned myself over to her program and she turned me around. I started with personal training because there was no way I could go into a group class and do the work. Gradually I was able to join a class and keep up. I run on my off days and can run 4.5 miles in 50 minutes. I now try to target my calories burned at 600. When I started I was lucky to be able to burn 250 calories.
I am fit enough now to actually make an impact on my weight. I have learned the beauty of using a heart rate monitor during my workouts. And here's the really good news – I can eat! A year ago I was so heavy and out of shape that I couldn't eat anything and I couldn't lose any weight because I didn't know how to burn calories.
Another remarkable aspect of Clay Fitness is the accountability. Hyam continues to check on my progress, e-mail me, and call to check in and make sure that I am meeting my goals. If I miss a class there is always follow up on what's happening with me. I went on vacation last summer and had to miss a week of training. During my time away, Hyam checked in and kept me motivated. It was really quite incredible.
Now I am happy to be one of those people who has lost a ton of weight and gotten into great shape. I have some control in my life and I love the results I have achieved. Everyone asks what I have done because it has been such a drastic change for me. Again, it is Hyam and her program. She honestly cares and is dedicated to the lost ones who stagger their way into her studio."
Lucia Evans-Morse, Charlottesville