NEW CLASS OFFERING!
Clay Fitness + Nutrition is excited to offer a new opportunity for beginners, particularly those interested in weight loss and getting healthy from the ground up. Clients with a significant amount of weight to lose are welcome and encouraged to participate.
Beginning Strength & Cardio for Weight Loss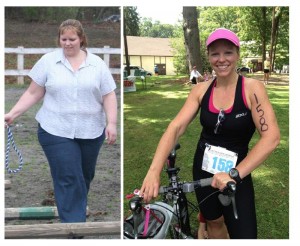 will be taught by Caitlin Gallagher, a Clay Fitness client who successfully transformed her life, losing over 120 pounds through exercise and healthy eating. Caitlin's success fueled her desire to share her experience, inspiration and motivation with others beginning their fitness journeys. She is currently studying for her ACE personal trainer certification, to be completed in February 2014. Under the guidance of Clay Fitness + Nutrition owner, Hyam Hosny, Caitlin will lead, inspire and guide participants to push themselves out of their comfort zone in a safe and fun way.
This 13-week session includes 2 one-hour strength/cardio classes per week and offers an optional nutrition, meal planning, and weight loss discussion group for an additional fee. Participants will learn strength exercises using hand weights, body weight, kettlebells, TRX, medicine balls, the bosu balance trainer and more. Each class will be different and fun. Participants will feel comfortable exercising in a private environment that fosters positive interaction, support, laughter and lots of sweat. Prepare to be challenged, pushed, and encouraged as you commit to begin your journey to fitness!
Beginning Strength & Cardio for Weight Loss will take place in the Clay Fitness studio Mondays and Wednesdays from 7-8 PM December 30th through March 27th. Cost for the 13-week session (26 classes) is $300 (first class is complimentary and will cover proper form for a variety of exercises). A three-installment payment plan is available for an additional $20 fee. Two make-up classes will be offered prior to the end of the session.
If you are interested in finding out more about this exciting new class contact Caitlin at thereisnosecrettofit@gmail.com