Eve Hesselroth, Owner of Clay Fitness; M.S., CPT, USA Weightlifting Coach, Level 1.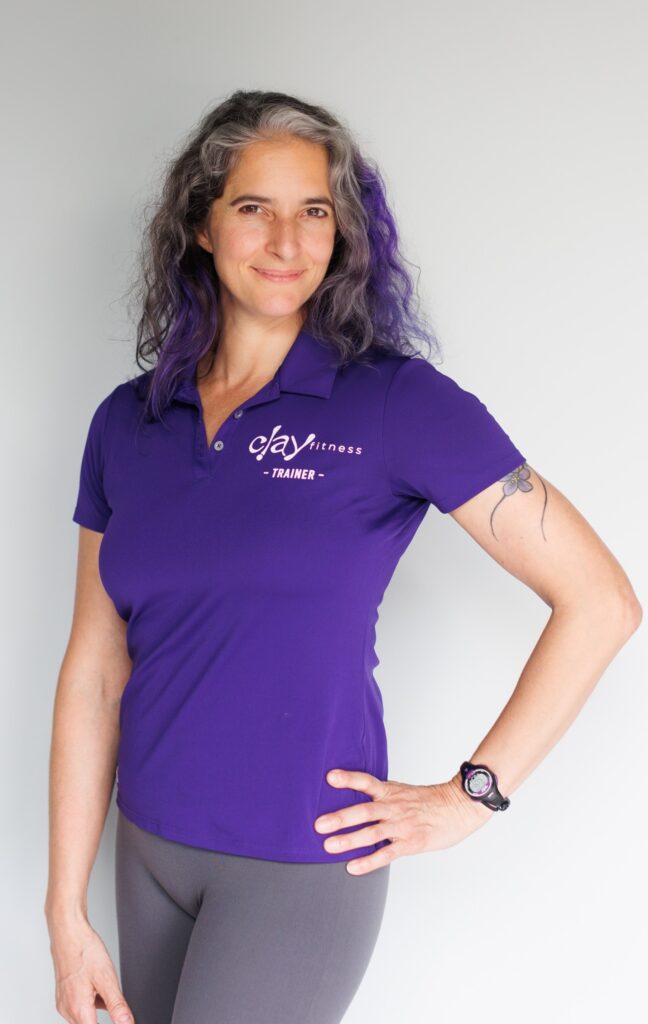 Eve started her fitness journey with yoga in 1998 in Austin, TX. After graduating from UVA, she spent several years ignoring her health at a desk job in human resources and wanted to get fit and healthy before starting a family. Eve greatly enjoyed practicing hatha yoga through two pregnancies and post-partum. She turned to a serious 5-year vinyasa practice, which ended with a hip injury, a years-long recovery, and a new-found respect for not ignoring your body's cues.
The road to recovery took Eve from physical therapy to massage, chiropractic help, and osteopathic medicine, back to physical therapy and prolotherapy and finally to personal training (and Clay Fitness) in 2009. Training at Clay not only helped strengthen Eve's hip, but got her started on the path to ever higher levels of fitness, and a passion for fitness and wellness.
Whether training for and competing in her first sprint triathlon or CrossFit competitions, or attending and then later leading multiple fitness retreats in Jamaica, Eve has thrown herself into every fitness pursuit. She has watched herself get stronger, healthier and fitter every year. She stepped into the role of owner of Clay Fitness in May of 2015 inspired to bring this same experience to clients trying to set and reach goals of their own. Eve received her personal training certification (CPT) through NASM (National Academy of Sports Medicine) and holds a USA Weightlifting Level 1 Coaching Certification. She earned her MS in Applied Exercise Science from Concordia University Chicago in 2020, specializing in Human Movement Science.
Susie Lee (Certified Personal Trainer through ACE: American Counselor on Exercise; USA Weightlifting Coach, Level 1; Masters of Education in Behavioral Science in School Counseling)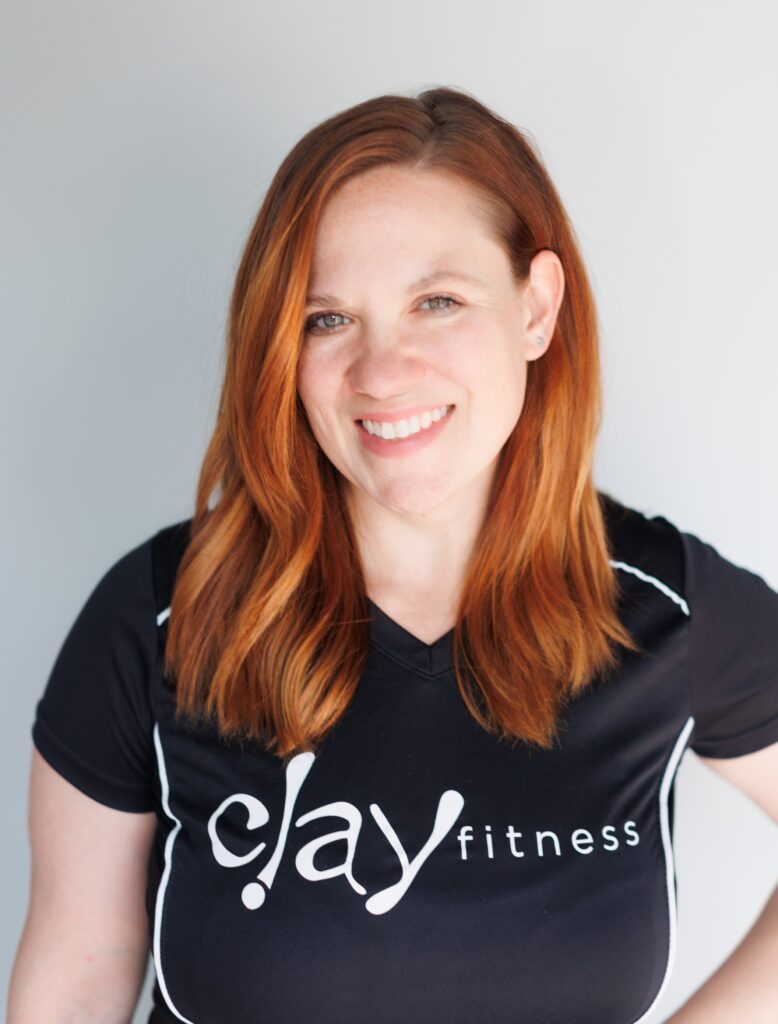 Susie is a fitness lover and an animal enthusiast. In addition to being a personal trainer she is also an elementary school counselor. Helping people is her passion, and she coaches with kindness and patience. She is a Charlottesville native, with an adventurer's spirit, and has lived in various countries abroad. She spent 6 months in Thailand teaching English, and another 6 months in Sydney, Australia, working with inner-city kids. After college she spent a year in Italy as an Au pair. After 8 years of being away from home, she realized her heart was in C-ville, with her family. Susie loves all forms of exercise. Her athletic journey started as a child. She played various sports, including soccer, swimming, field hockey and lacrosse, and she has six years of experience and a first degree black-belt in Tae Kwon Do. Susie started as a client at Clay Fitness in 2013, and soon after she was hooked. Since then, her fitness journey has taken her on a quest to learn more about various styles of exercise including CrossFit. In 2015 she won her first Festivus CrossFit competition and continues to train for and participate in competitions.
Susie has seen first-hand the effect that fitness and exercise can have on someone's life. In 2011 she tore her ACL completely. This is what lead her to Clay Fitness. She wasn't able to get surgery at the time and she sought out Clay to help her with her fitness journey with trainers who would be aware of her situation and help her carefully stay fit and grow strong despite the ACL injury. During this time, she realized that though there may have been a number of things she could not do, there were so many things she could do-including compete in very challenging competitions. Because of this she has a passion to help others grow in mind, body and spirit. She is a firm believer in the effectiveness that fitness has on the person as a whole. Her hope is to help all different kinds of people-those who are simply looking to get moving again, those who want to challenge or maintain their fitness and athletic performance, and those like her, who have their own history of injury (with doctor approval) coming back to fitness but in need of some guidance through the process. In 2019 she had ACL surgery and understands the process and patience of healing, going through physical therapy and partnering with her physical therapist to find ways to move and exercise safely during that process. She holds a personal training certification from American Council on Exercise (ACE), a Sports Fitness and Condition Specialist Certification and a USA Weightlifting Level 1 Coaching Certification. She is working through an Orthopedic Exercise Specialist Program through ACE as well as a Prenatal and Postnatal Fitness certificate.
Olivia Heeb-Wade (Certified Personal Trainer through the Brookbush Institute)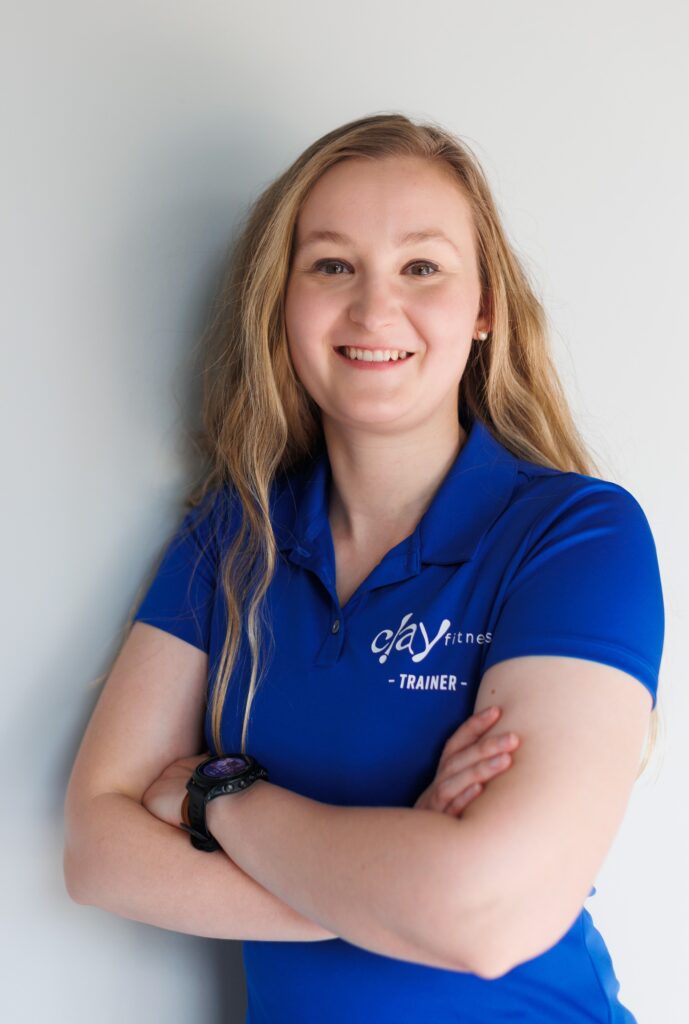 Olivia is a Staunton native who first came to Clay as a client. At the time, Olivia was frustrated with not being able to find any local fitness services that helped masters athletes/weekend warriors progress from physical therapy back to their normal 5-6 day/wk sports training. She was so happy to come to Clay and find that trainers create highly individualized programs that can bridge this gap as well as serve clients who are simply looking to lead healthier, more active lives.
At 16, Olivia started working as a swim lesson instructor and club swim team coach at her local YMCA and has continued to coach swimming since then as a certified USA swimming coach.
She received a bachelor's degree from Bridgewater College in biochemistry and art and received a grant to conduct her own research under the Health and Exercise science department. Upon realizing that Bridgewater had a swim team, she walked on the team after six years of a fairly inactive lifestyle and attained multiple school records and conference awards by senior year. Olivia finished off her college career by completing a 15-mile open water swim in Lake Moomaw as a fundraiser for the Covington Volunteer Rescue Squad.
She has rehabbed through knee, hip, and shoulder surgery as well as tendonitis and neuropathy while continuing her fitness journey. Olivia understands the mental and emotional strain of not being able to fully participate in activities because of injuries. As a coach, she firmly puts an emphasis on the balance between training hard and training healthy. She is ready to support and educate clients, whatever their fitness goals may be.
Currently, Olivia lives in Staunton with her husband, three cats, and an assortment of pigs and chickens.
Dr. Drazen Schrecengost, PT, DPT (American Council on Exercise Certified Personal Trainer)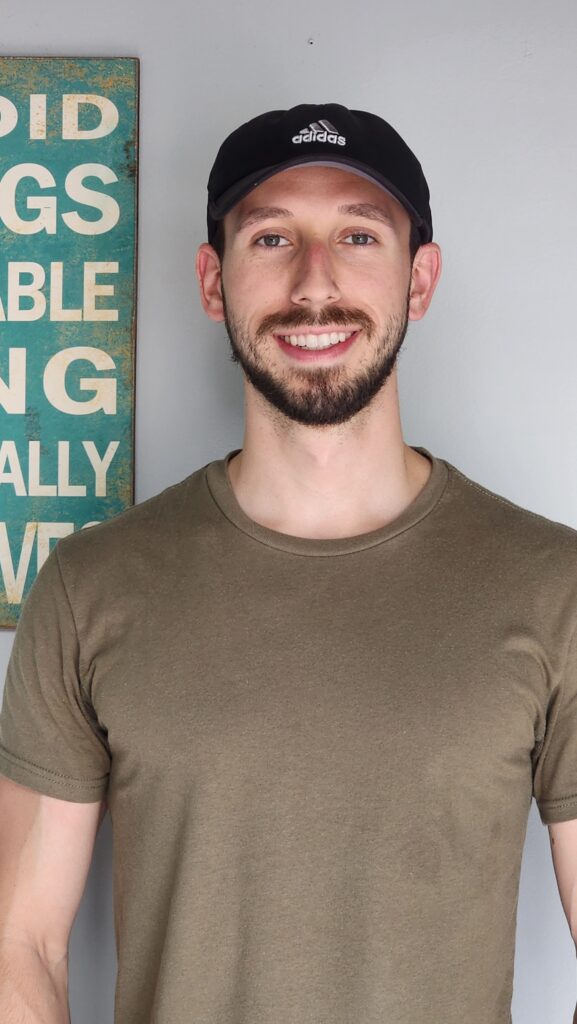 Dr. Drazen Schrecengost (but you can call him Dray) is excited to be a part of the Clay Fitness personal training team. He grew up near Syracuse NY where he received his undergraduate degree at Binghamton University in Integrative Neuroscience. He then moved to Richmond to attend VCU's Doctor of Physical Therapy. Dray recently moved to Charlottesville in Spring of 2023 where he now works full time as a Physical Therapist specializing in the treatment of orthopedic injuries. He has over 7 years of experience as a trainer with clients of all abilities. Dray's goal is to help foster a passion for fitness and wellbeing in everyone he works with. It's his belief that fitness should be an integral part of daily life, not only to be pursued in "bouts" or short term goals, but with longevity in mind. That is why he encourages all his patients and clients to dive deep into what intrinsically drives them to pursue their goals. His training philosophy instills a lifelong pursuit of health while tailored to what matters most to you! He looks forward to being a part of your commitment to health and wellness.
Jermaine Rush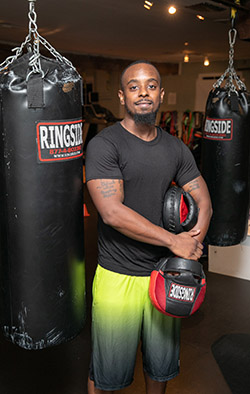 Jermaine Rush is a native of city of Charlottesville, born and raised. Growing up he always took great interest in physical sports and physical performance. He has played many sports and participated in many training seminars to expand his knowledge of the body and mind and how they can work together to result in better performance in sports. He played football as a running back for Charlottesville High School for 3 years, as well as lacrosse, baseball, and basketball. He also attended a week-long boot camp for the Marines volunteer group in his senior year of high school and greatly enjoyed all of these activities, but life after high school was when he found the perfect activity to test his will, discipline and mental sharpness. This sport demands nothing but your ALL and we call it boxing. It's the sport every other sport aspires to be. Jermaine has been boxing for almost 2 years with plenty of sparring sessions, working with the youth, and grueling work out routines that put his body on a different level. He is in better shape than he was in high school. He lost 70 pounds in 8 months — from weighing 225 down to 155. This came from his commitment to working out 2 hours a day 5 days a week. This is when he realized that this was what he had been missing his entire life. Thanks to his great trainers, Charles Baily, Tyrone Ingram and Norman (a legendary boxer of the Charlottesville area), he learned the different aspects of the art of boxing.
There really is a science behind the fundamentals of the sport from the way you breath to the way you bait your opponents in to capitalize on your advantages. Boxing is for everybody on any level you want to take it — if you want to do it to stay in shape, for self defense, or to learn self discipline and beat bad habits. Even if you want to compete! Boxing is not only a way to work out — it also improves your reflexes and your eye-hand coordination and offers a new way of thinking that goes hand and hand with life. Coach Jermaine (aka Coach Jay) encourages anybody from youths to elders to give boxing a try. It could change your life and your way of thinking, as it is a tremendous way to relieve stress, build self esteem, and challenge yourself. Boxing is not just a sport, its a way of life that only asks for commitment, patience, and will. Plus, did we mention that it's fun? It's fun!!
Amy Floyd, Communications Director/Client Accounts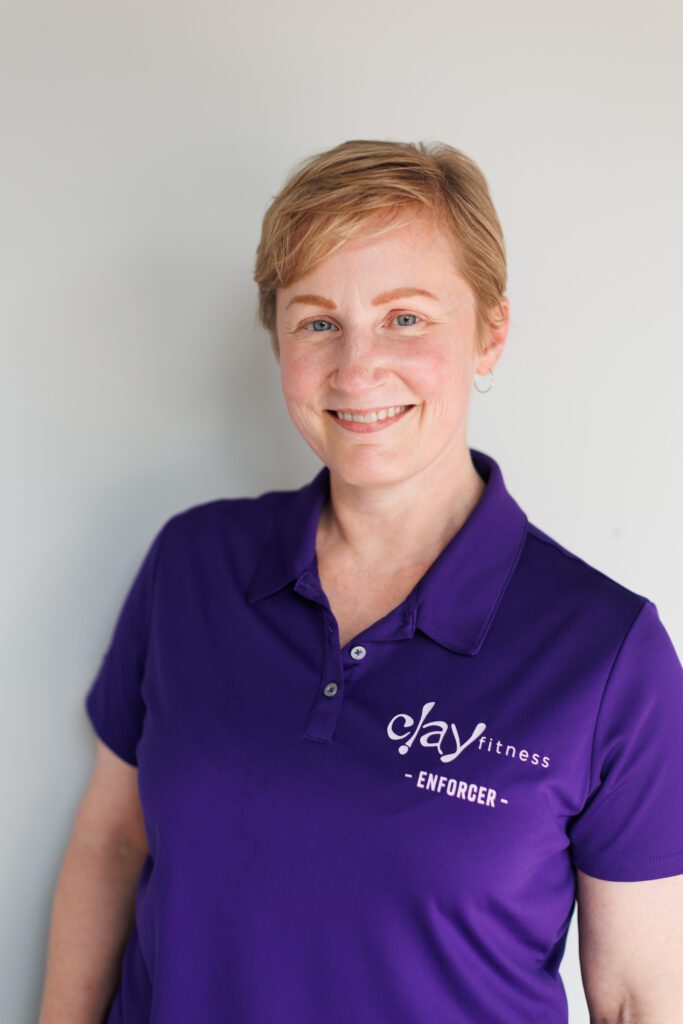 Amy has been a resident of the Charlottesville area since 1988. After graduating from Albemarle High School, she went on to earn a Bachelor of Science degree in Mathematics with a minor in middle school education from James Madison University. Amy returned to Charlottesville to teach 7th grade math at Henley Middle School. After 5 years, she decided that she needed a change of pace. She currently works at Piedmont Virginia Community College as a test proctor and has the occasional opportunity to see former Henley students.
Throughout the last several years, Amy has realized the importance of exercise and healthy eating for herself and for others. In October 2013 at PVCC, she started a monthly fitness challenge to encourage coworkers to make time to exercise. She likes to organize walks, hikes and workouts for her participants. Now, Amy looks forward to encouraging Clay clients as they work to reach their health and fitness goals.